How Often Should I Clean My Rug?
One of the questions we are asked every day is "How often should I have my rug cleaned?"
Oriental Rug in Kitchen
Rugs in the kitchen should be cleaned every year to remove greasy soils and food stains.
In general, having your rug cleaned every year is fine. Even if it is not badly soiled, a proper, professional cleaning will not harm it. Here are some guidelines you can follow:
CLEAN EVERY YEAR WHEN
You have pets on the rug
You have small children playing on the rug
The rug is in the dining room
The rug sits in an entry way
The rug is in the kitchen
The rug is in a high traffic area
Annual cleaning in these situations protects against premature wear due to gritty soil, easier removal of pet stains & odors, attends to food spots and spills in a timely manner, and helps to find & repair small damaged places before they become large and costly.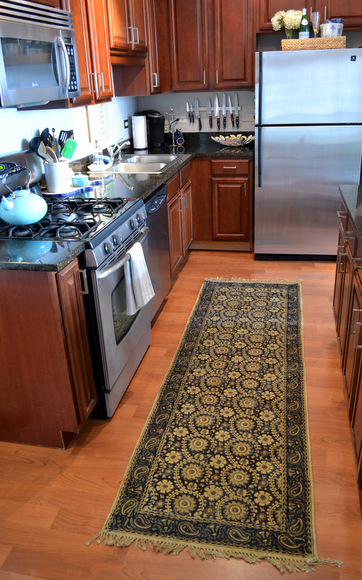 CLEAN EVERY TWO to THREE YEARS WHEN
The rug is in a bedroom
The rug is in a guest room
The rug is in a little used, formal dining room
Because the foot traffic in these areas is not heavy, and because most of the dirt on the soles of your shoes has tracked off by the time you reach these areas, it is not usually necessary to have them cleaned every year.
Soils, stains, pet hair, pet accidents, and other airborne pollutants like dust and pollen collect in our rugs and the vacuum does not remove them all. That is why we recommend not extending the length of time between professional cleanings beyond three years. When you extend beyond that, especially on a well-worn rug, it's much harder to bring back a fresh, clean appearance, and spots and stains become more permanent issues. With regular maintenance, your rugs will newer longer.
Select Rug Washing
354 Idaho Maryland Rd.
Grass Valley CA, 95945
(530) 477.2782
Hours
Mon - Fri 8 am - 5 pm
Saturday - Closed
Sunday - closed
We proudly service the following areas:
Auburn, El Dorado Hills, Folsom, Granite Bay, Grass Valley, Lake of the Pines, Lake Wildwood, Nevada City, Penn Valley, Roseville